XPOVIO (selinexor): A New Option for Relapsed or Refractory Myeloma Patients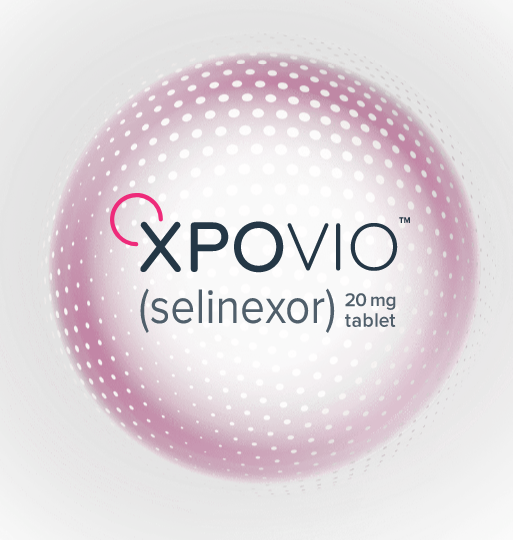 On July 3, 2019, the FDA approved XPOVIO for use in combination with dexamethasone for the treatment of patients who have relapsed or refractory multiple myeloma, have received at least four prior antimyeloma treatment regimens, and are refractory to at least two proteasome inhibitors (such as Velcade, Kyprolis, and Ninlaro), at least two immunomodulatory drugs (such as Revlimid and Pomalyst), and an anti-CD38 monoclonal antibody (Darzalex). Patients matching this description are known as triple class refractory (that is, they received treatment with—and did not respond satisfactorily to—the three main classes of drugs currently used to treat myeloma: proteasome inhibitors, immunomodulatory drugs, and anti-CD38 monoclonal antibodies). Unfortunately, survival for triple class refractory patients is measured only in months. Clinical trials with experimental therapies serve as their only treatment option, yet many may not be eligible due to their rapidly progressing disease.
The MMRF saw the unmet need for an agent that could help heavily pre-treated patients that had poor prognosis and, recognizing the potential for a drug like XPOVIO, helped accelerate the development of XPOVIO in clinical trials. With the FDA's approval of XPOVIO, patients with triple class refractory myeloma who have been on four or more drugs now have a new treatment option.
XPOVIO is the first in a new drug class called selective inhibitors of nuclear export (SINE). XPOVIO targets—and disrupts the function of—a protein called XPO1, which ultimately leads to myeloma cell death. XPOVIO is a tablet and is given orally at a dose of 80 mg along with dexamethasone (20 mg orally) twice a week (both drugs on days 1 and 3 of a 28-day cycle) until disease progression.
The approval of XPOVIO was based on results from the STORM trial, a clinical trial conducted to determine the efficacy of XPOVIO combined with dexamethasone in patients with relapsed or refractory multiple myeloma. The study included 122 patients, 83 of whom had received at least four prior antimyeloma treatment regimens and were refractory to at least two proteasome inhibitors, at least two immunomodulatory drugs, and an anti-CD38 monoclonal antibody. Response to treatment with XPOVIO plus dexamethasone was seen in 25% of patients.
In the STORM trial, the majority of patients experienced serious side effects, mostly affecting blood cell counts (such as low platelet counts). As a result, over 50% of patients required a reduction in or an interruption of their dose of XPOVIO. Therefore, to ensure that rapid intervention can be given when serious side effects occur, patients are closely monitored in the first two months of treatment. The most serious side effects to be aware of when receiving treatment with XPOVIO include:
Low blood cell counts
Gastrointestinal effects (nausea/vomiting or diarrhea)
Fatigue
Decreased appetite or weight loss
Confusional state and dizziness
Low sodium levels (hyponatremia)
Infections
Additional clinical studies are currently looking at whether XPOVIO can be combined with other myeloma drugs to benefit not only patients with relapsed or refractory myeloma, but patients with newly diagnosed myeloma who are eligible for a stem cell transplant.
Interested in learning more about XPOVIO? Speak to an MMRF Patient Navigator at the Patient Navigation Center at 1.888.841.MMRF (Monday through Friday, 9:00 am to 7:00 pm ET) or email [email protected]
Additional Resources
MMRF. XPOVIO.
MMRF. MMRF Patient Toolkit. Multiple Treatment Overview.